About me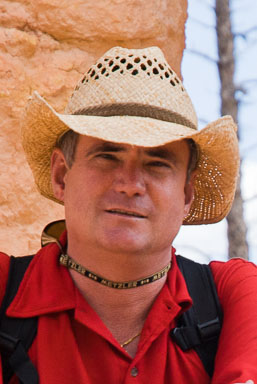 I am a photographer based in Graz, Austria, Europe
Runaway at the beginning, I moved away from the elite boarding school. Felt better after first new class fights, very down to earth now. Few I won and most I lost, but I got friends. Parents had provided me with solid education, gods bless you, a perfect tool - whenever needed I can use it. Outward bound I left home, which had frequently changed anyway before I became ten. I dropped out from my studies of physics and economy and left the world I knew. The rest fit into my backpack and life spilled me and my friend Walter on shore in South America – at the mouth of the AMAZON river. Rated the chance to survive and return around 50/50, but finally there were less snakes than expected.
Explore the Amazon - why?
Well, nobody had travelled the entire river so far, as long as I knew. And it was simply there, tempting for adventures. And we were ready to go. - I was twenty three.
10 months later my diaries were full of stories I would have liked to read before departure. Jungle, animals, rapids, natives, corruption, drugs, fear, euphoria, exhaustion, sickness, survival - close to death, but so alive! Dirty clothes in a disrupted backpack were all my belongings on return, but several thousand color slides and hundreds of stories in my diaries preserve real marvels from every day's falling into oblivion. Travelling had lead to changes and hunger for more adventures had risen. Three years later it happened again. All belongings procured from new since my return were made to money. A new door opened up into a new adventure.


Go EAST ! – This time with Barbara. She had quit her perfect career as a personal secretary, my gipsy sweetheart of twenty-four.
We dunk into Sri Lanka's civil war and later deep into Asian cultures. A magus made us fly or die and we learned that it is easier to give than to take from the poorest. Our modest budget lead us directly into the beating heart of Asia. Golden signs showed us the way to higher levels in the Himalayas and later of realization in Burma. Black opium gold glittered alongside our way to the hill tribes hidden in the Thai golden triangle. Hilltribe people touched our skin and our hair - they had never seen white people before. Jungle got us back in Taman Negara, Malaysia's green lung and finally we chilled down seven weeks on South Chinese coral islands. Stations on our way, just to mention a few. After one year, two strangers returned to Europe, overloaded with treasures life had given. We had finally started walking our way.
I am not boring you with the rest of my live story but it continued to be full of travels, marvels, adventures and is still exciting everyday. Some might see it less spectacular from their view, but breathtaking from my perspective.
As you have read until here you might be interested in treasures. Go ahead, they are only one side step away. Risk it and walk into my images. But look out, this is dangerous territory. You might find traps, illusions and temptations – but probably also a hidden path to the start of a new adventure ...
For more than twenty years I was able to combine travelling with my work as a manager in Traffic Telematics, the Chemical, Textiles and Steel Industry. Hundreds of business trips to the five continents lead not only to a comfortable Lufthansa Senator status but also to hundreds of business contacts. And business is always made between people. After years on low budget with my backpack I put up now in five star hotels, met business tycoons and government officials. Whereas low budget travelling revealed a glimpse of the beating heart of a country, the business approach disclosed a view under the engine hood and the dynamic motor of booming economies. It was most exciting to be part of India's ascend towards a global industrial player, whereas the way to develop the country has been not always to the best of its people. I got insight of how Chinese might think, made friends in India and became an estimated partner from Dubai to Shanghai. Key was the understanding of culture and social background of the people I met. I had started studying their history, religion and philosophy and learned principles of some of their languages. What an international live and how exhausting ! My camera always travelled with me and it was interesting making industrial photography together with situation reports in emerging technologies and markets. More that 100.000 images in my archive document 30 years of travelling, many a change in the world but also here and there a hidden paradise.
I switched from taking to making photographs, which appeared more challenging to me. Digital photography makes the results so fast and easily accessible. Portrait is certainly the ultimate in photography leading from differing realities into a realm of personality, fiction and desire. Faces attract us, as they always touch a string of our own personality. I have passed the master craftsman certificate and started my work as a professional photographer. And whatever I will catch with my camera, I will do it with the confidence, that everywhere there is beauty behind.


Visited Countries